The biggest thing, news wise, to come out of #nn15 was the impromptu, disruptive protest during yesterday morning's town hall. That's been reported in several local corporate news outlets, cable news operations (and therefore online), even
Al Jazeera America
, and blogs.
The responses from my friends, many of whom were in the town hall audience, run the gamut from criticizing Bernie and O'Malley, to denouncing the protesters. And several things in between.
Can you really blame the protesters, especially since one of the Saturday morning #nn15 training sessions, titled
Creative Disruption: Culture Jamming, Subversive Actions and Media Tactics for a 2.0 World
could reasonably be considered an invitation to conduct just such a protest.
In the official program for the conference, the
Creative Disruption
panel was described thus:
How can we use creative disruption to interrupt injustice, advance our campaigns and shift culture? We'll explore the evolution of tactics in the age of social media, where our ability to capture the imagination of our audience determines the scale of our impact. Join us to discuss how to incorporate culture jamming, creative actions and media stunts into campaigns and to explore the broader concepts that make these tactics succeed or fail. Whether holding fake press conferences, creating spoof ads or glitterbombing presidential candidates is your thing, this panel is sure to have something to grab your attention.
Let's face it, America STILL has racism problems... entrenched institutionally. These bold activists have a genuine right to speak up about those problems and to demand police agencies stop killing people for no reason. It has been happening at an alarmingly high rate and blacks have been victims of that violence much more than others. The underlying reasons for those all too frequent incidents are many and complex but they must be addressed.
The bottom line is that this was a perfect opportunity for them to do what they did. Was it inconsiderate and inconvenient for the candidates, the moderator and the audience? Of course. The protesters were mostly women. Consider the title of Harvard historian Laurel Thatcher Ulrich's book,
Well-Behaved Women Seldom Make History
, described in part on Amazon.com,
In 1976, in an obscure scholarly article, Ulrich wrote, "Well behaved women seldom make history." Today these words appear on t-shirts, mugs, bumper stickers, greeting cards, and all sorts of Web sites and blogs. Ulrich explains how that happened and what it means by looking back at women of the past who challenged the way history was written.
I'll also call your attention to the
response released by Raven Brooks
, executive director of Netroots Nation in the wake of the protest. It reads,
Netroots Nation stands in solidarity with all people seeking human rights.
With today's Town Hall, our aim was to give presidential candidates a chance to respond to the issues facing the many diverse communities represented here.
Although we wish the candidates had more time to respond to the issues, what happened today is reflective of an urgent moment that America is facing today.
In 2016, we're heading to St. Louis. We plan to work with activists there just as we did in Phoenix with local leaders, including the #BlackLivesMatter movement, to amplify issues like racial profiling and police brutality in a major way.
It is necessary and vital to continue this conversation. We look forward to doing so in the coming year.
So, why have the two presidential candidates been criticized for their responses to the protest?
Martin O'Malley stuffed his foot in his mouth
by saying,
"Every life matters ... Black lives matter. White lives matter. All lives matter."
Of course all lives matter. We could go off into several tangents on this but Dan Nowicki also quoted Anna Galland, executive director of
MoveOn.org
,
"Saying that 'all lives matter' or 'white lives matter' immediately after saying 'Black lives matter' minimizes and draws attention away from the specific, distinct ways in which Black lives have been devalued by our society and in which Black people have been subject to state and other violence."
Bernie, as several news stories have observed, was noticeably irritated by the interruption. From Al Jazeera America,
"Black lives of course matter," said a visibly annoyed Sanders in response to heckling, early into his scheduled appearance after O'Malley. "But I've spent 50 years of my life fighting for civil rights. If you don't want me to be here, it's okay."
Sanders, who apparently left the stage fifteen minutes earlier than expected, reportedly cancelled meetings he had scheduled for the rest of the afternoon prior to the evening rally. Blog posts focusing on the candidates' mistakes, however, also pointed out that he should have first said something to the effect of, "I hear you."
This
write up on Eclectablog
covers several very good points and has some great pics from the protest. Here's one picture I took (with my camera).
It's probably also important to note that even though the protesters didn't seem to recognize when or that they actually were heard by both candidates, none of them made any movements or suggestions that they would do anything other that SPEAK UP to call attention to their cause.
Granted, both candidates made tangible mistakes. But come on, who of us do not make mistakes? It will be far more telling about each of them as we pay attention to how they respond from this moment forward.
Then there's this
quote attributed to Albert Einstein
,
A person who never made a mistake never tried anything new.
Both Sanders and O'Malley showed up. Isn't that what's most important to reflect on about this incident? From a speech President Theodore Roosevelt gave more than 105 years ago in Paris, France, on the subject of "
Citizenship in a Republic
" I give you this excerpt:
It is not the critic who counts; not the man who points out how the strong man stumbles, or where the doer of deeds could have done them better. The credit belongs to the man who is actually in the arena, whose face is marred by dust and sweat and blood; who strives valiantly; who errs, who comes short again and again, because there is no effort without error and shortcoming; but who does actually strive to do the deeds; who knows great enthusiasms, the great devotions; who spends himself in a worthy cause; who at the best knows in the end the triumph of high achievement, and who at the worst, if he fails, at least fails while daring greatly, so that his place shall never be with those cold and timid souls who neither know victory nor defeat.
Shame on the man [or woman] of cultivated taste who permits refinement to develop into fastidiousness that unfits him for doing the rough work of a workaday world. Among the free peoples who govern themselves there is but a small field of usefulness open for the men of cloistered life who shrink from contact with their fellows. Still less room is there for those who deride of slight what is done by those who actually bear the brunt of the day; nor yet for those others who always profess that they would like to take action, if only the conditions of life were not exactly what they actually are.
The putative front runner for the Democratic nomination didn't seem to think she needed any of us at this conference and simply did NOT show up (of course, she didn't say she would show up). News stories that reported on Hillary's absence noted the standard excuse, "scheduling conflicts." Yeah, right.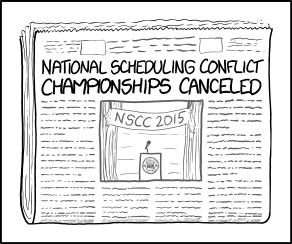 To my friends who were inconvenienced by the protest, I hear you. Likewise, I hope you hear the protesters' concerns too and stand with them. Together we must make our country change. It obviously won't be easy.
We must resolve this most urgent civil rights problem, just as we must resolve our country's immigration problems.